Polyversal Updates
2/20/22: Our print run of Polyversal Sci-Fi Miniatures System is happening right now! Get ready to command your future army and bring any miniatures you want to use to the tabletop with help from our web-app, Arsenal.

The Polyversal Electronic Rules, Print-on-Demand Rulebook, and Quick-Start Combatant Tile Packs are available for sale exclusively on Wargame Vault. The Polyversal Web-Based Design Application, Arsenal, is included. The Rulebook is available for order through Wargame Vault as a full-color Print-on-Demand softcover book option as well.
Polyversal is in production after a successful Kickstarter project (see it here). We are doing a limited production of Polyversal's initial 7 products. All products are now detailed on this website in the Products tab and are partially available (Minis, Electronic Rule, Dice available now; Printed game components printing now!): Order Today!
Welcome to Polyversal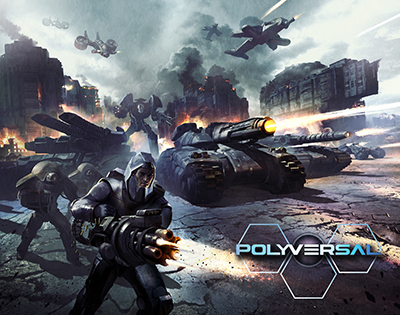 Polyversal is a new 6mm-15mm sci-fi mass combat miniatures system designed by Ken Whitehurst and published by Collins Epic Wargames. The Polyversal system works with miniatures you may already have in the 6mm-15mm range and will include access to Combatant Design rules, allowing you to quickly and easily customize your armies within the rules of the system. The setting is a gritty plausible future with a storyline that promises to capture your imagination while providing endless hours of gaming entertainment. Don't have 6mm-15mm miniatures? No problem. We're working with 5 miniatures manufacturers and 1 miniatures terrain company to supply a selection of 6mm and 10mm (Hawk Wargames only) miniatures for a boxed version of Polyversal with more boxed sets to follow. These boxed sets include everything you need to play the game- gorgeous Combatant Tiles with incredible artwork from Bruno Werneck, dice, tracking counters, orders tokens, quick reference sheets, a comprehensive rulebook and miniatures from some of the best 6mm sci-fi manufacturers out there. For more information, check out our Introduction to Polyversal or start with this Video overview / interview from Origins 2017 with Jeff of The Gaming Gang: