UN Peacekeepers Expansion
MSRP: $75 USD
Store Link: CEW00011
This product is currently available for partial delivery. Miniatures ship / deliver now. Printed components ship Q3 2020.
The UN Peacekeepers Expansion is a standalone Battlegroup including 6mm and 10mm models (Ares only) and Combatant Tiles for use with Polyversal's UN faction. This Battlegroup totals 750 points if fielded with standard psychological profiles. The UN calls upon the Peacekeepers whenever a heavier response is needed for any battle or uprising. Land-based, the battlegroup is anchored by a pair of Maarghast Heavy Assault Tanks with Twin Heavy Plasma Guns and Missiles (Plasmablast Games) and two Ares Walkers (Hawk Wargames). Three Encegon Tanks with Twin Heavy Plasma Guns (Plasmablast Games) provide medium fire support coverage. Three Phestorm AA Variant tanks (Plasmablast Games) provide anti-air support in the absence of covering UN aircraft. 40 Industrial Infantry (Dark Realm Miniatures) are carried into battle by three quick Ghizar Recon APCs (Plasmablast Games).
All models include Combatant Tiles with statistics designed and balanced to work well together as a Battlegroup. Field as a complete group, supplement other UN Battlegroups, form Units into Elite operatives, organize special task forces, and more. How you deploy the Peacekeepers within Polyversal is up to you.
This expansion is not a standalone game. It relies on either base game of Polyversal: CEW00009 (no miniatures) or CEW00010 (2 battlegroups), to play.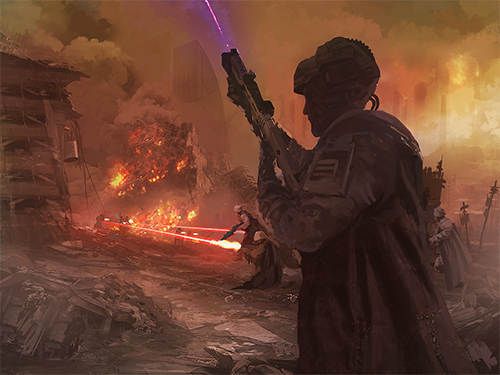 This product is intended for players who want to get started playing Polyversal without having to spend any time designing Combatant Tiles for the game. While you may always customize the game later, this set includes one complete Battlegroup of miniatures and Combatant Tiles pre-designed by Collins Epic Wargames for a more out-of-the-box playable experience. We have partnered with five manufacturers to include an awesome collection of miniatures from multiple lines that are all compatible within Polyversal. James Masino and Bruno Werneck have created amazing sci-fi artwork for each Combatant Tile within this expansion to help bring these models to life within the Polyversal story.
What is Included?
The UN B Peacekeepers Battlegroup Includes the following miniatures (with tiles for each):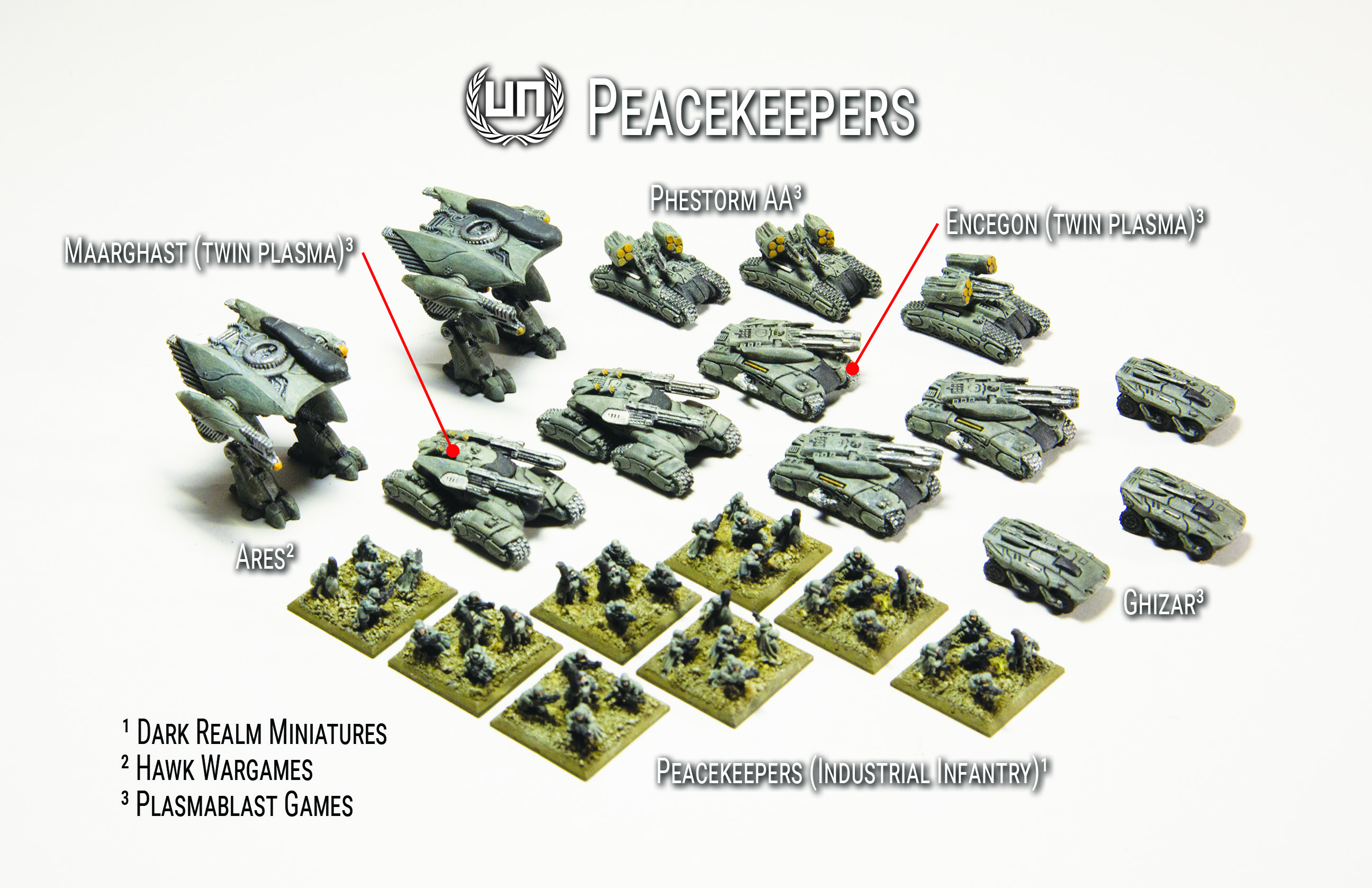 40x Industrial Infantry (Dark Realm)
3X Ghizar Recon APCs (Plasmablast)
3X Phestorm AA Variant (Plasmablast)
3X Encegon Heavy Tanks w/Twin Plasma Gun (Plasmablast)
2X Maarghast Heavy Assault Tanks w/Twin Heavy Plasma Gun & Missiles (Plasmablast)
2X Ares Battle Walkers (Hawk)