Polyversal Combatant Tile Packs
MSRP: $5 USD (Each, Digital, Bundle includes a discount)
MSRP: $20 USD (Each, Physical Die Cut Sets)
Description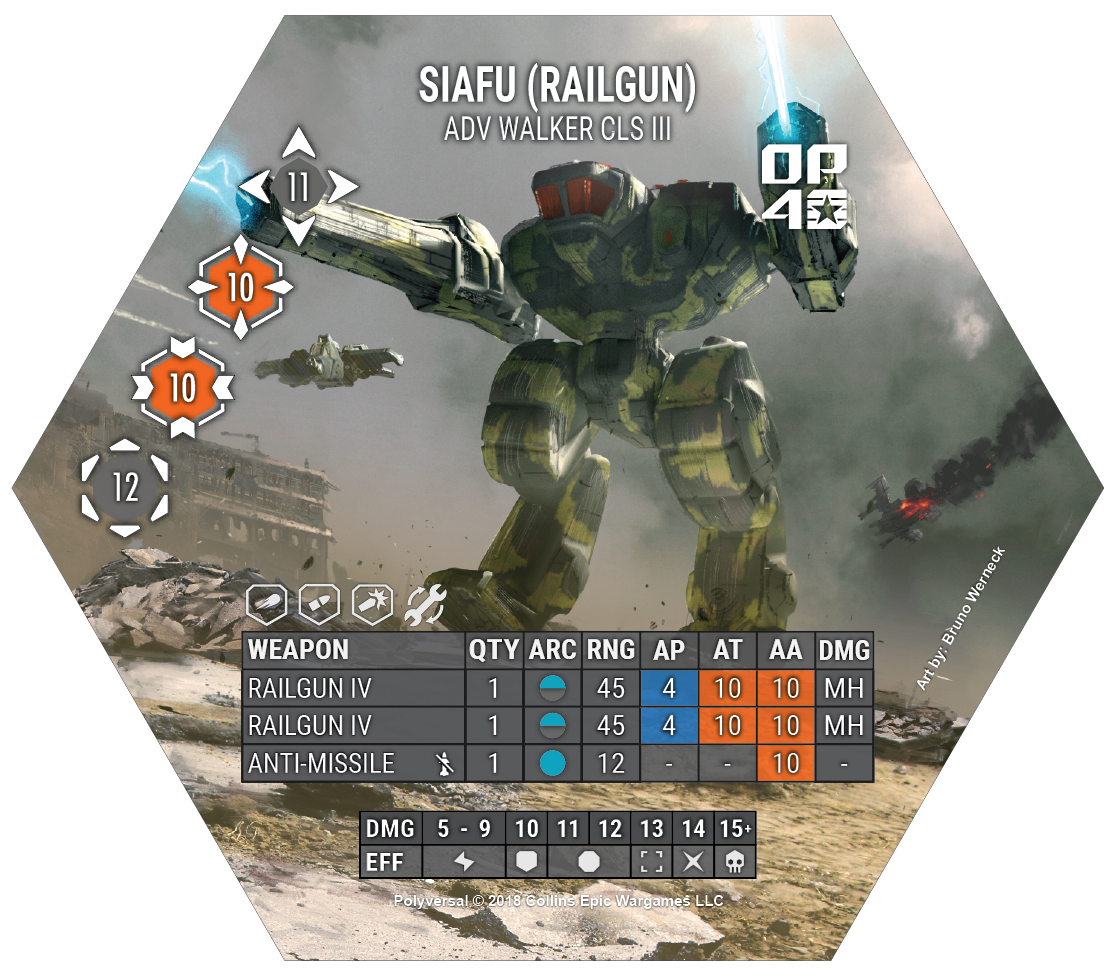 Polyversal Combatant Tile Packs are currently available in two forms: 1) Digitally on Wargame Vault as PDF Downloads, and 2) Physically as die-cut production sets from the CEW store. These sets are the same Combatant Tile sets included in each of our Battlegroups with miniatures and are not sold individually. If you do just need one or two out of a set, Contact Us and we will work with you to get you what you need.
All Tiles measure 3" across the flats and provide all of the stats needed to play with miniatures in the game as well as a place to track Battlegroup formations, Orders, Effectiveness, and Stress. The front side of each tile provides game info and artwork while the back provides points cost information for Battlegroup inclusion based on various Psychological Profiles. Each sheet contains multiple tiles (front and back) and measures 8.5"x11". For digitial versions, arrangement of the tiles line up correctly with our peel-and-stick Hexagonal Paper included in our Combatant Tile Blanks product.
Why Buy these sets?
Combatant Tiles are included with all of our Battlegroup Sets. But if you have the miniatures already, grab the tiles for a faster start into Polyversal with our pre-made designs with awesome Sci-Fi art, each set balanced into cohesive forces of 750 points if fielded as Standard Units. If you already have one of our Battlegroups, extra tiles can increase flexibility on how to field those units in Polyversal. For example, if one Tile represents 3 Encegon Tanks as in the UN Quick Reaction Force, one additional Tile lets you field two Encegon units of 1 and 2 Tanks, give them different orders, split them up into another Battlegroup, and even have different Psych Profiles. In short, you can do even more with the miniatures you have.
Tile Packs are sold by Battlegroup with an Extras pack covering a mix of bonus models from the Kickstarter. All tiles are based on models commercially available from Collins Epic Wargames or our Manufacturing Partners directly. A summary and preview of each pack available is provided below, along with a link to the individual Wargame Vault and CEW pages for purchase. Tile Packs are sold at a discount if purchasing the Polyversal System Bundle on Wargame Vault. CEW also offers a bundle of all 12 Tile Sheets (60 double-sided Tiles, 43 Unique Designs, 3 Emblem Objective Markers).
Artists featured include James Masino and Bruno Werneck, as credited. Graphic Design by Byron Collins and Carl Olsen. Unit Design by Ken Whitehurst and Byron Collins. Miniatures design by their respective manufacturers.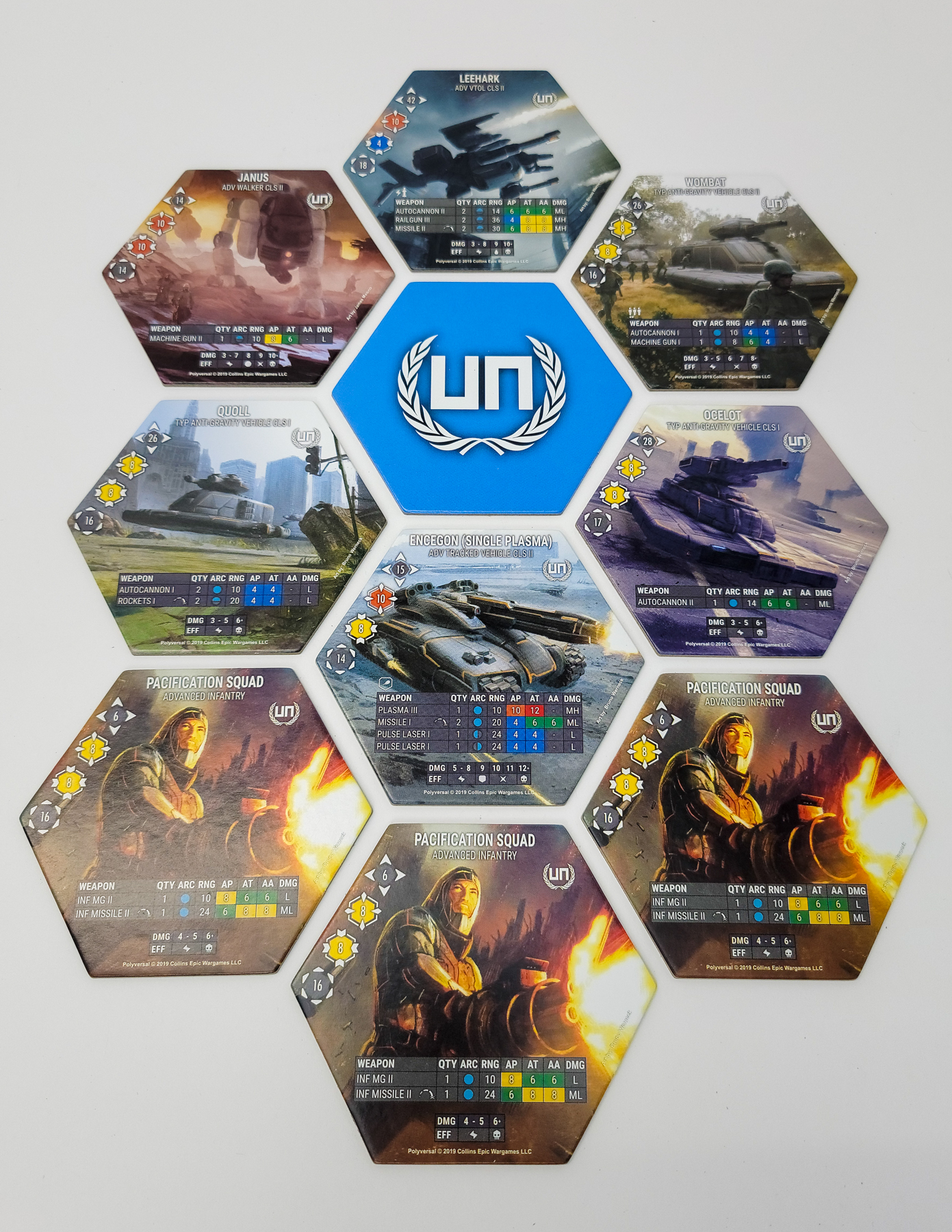 UN Quick Reaction Force Tile Pack
Physical Set on CEW Store (dropdown Selection)
Includes these Combatant Tiles (click image for larger view):
1X Janus (based on Janus miniature by TT Combat)
1X Encegon (based on Encegon miniature by Plasmablast Games)
1X Leehark (based on Leehark miniature by Plasmablast Games)
1X Ocelot (based on Ocelot miniature by Brigade Models)
1X Quoll (based on Quoll miniature by Brigade Models)
1X Wombat (based on Wombat miniature by Brigade Models)
3X Pacification Squad (based on Power Armor miniatures by Brigade Models)
1X UN Objective / Control Tile
UN Peacekeepers Tile Pack
Physical Set on CEW Store (dropdown Selection)
Includes these Combatant Tiles (click image for larger view):
3X Peacekeepers (based on Industrial Infantry miniatures by Dark Realm Miniatures)
2X Ghizar (based on Ghizar miniature by Plasmablast Games)
1X Phestorm AA (based on Phestorm AA miniature by Plasmablast Games)
1X Encegon w/Twin Plasma (based on Encegon Twin Plasma miniature by Plasmablast Games)
1X Maarghast (based on Maarghast miniature by Plasmablast Games)
1X Ares (based on Ares miniature by TT Combat)
1X UN Objective / Control Tile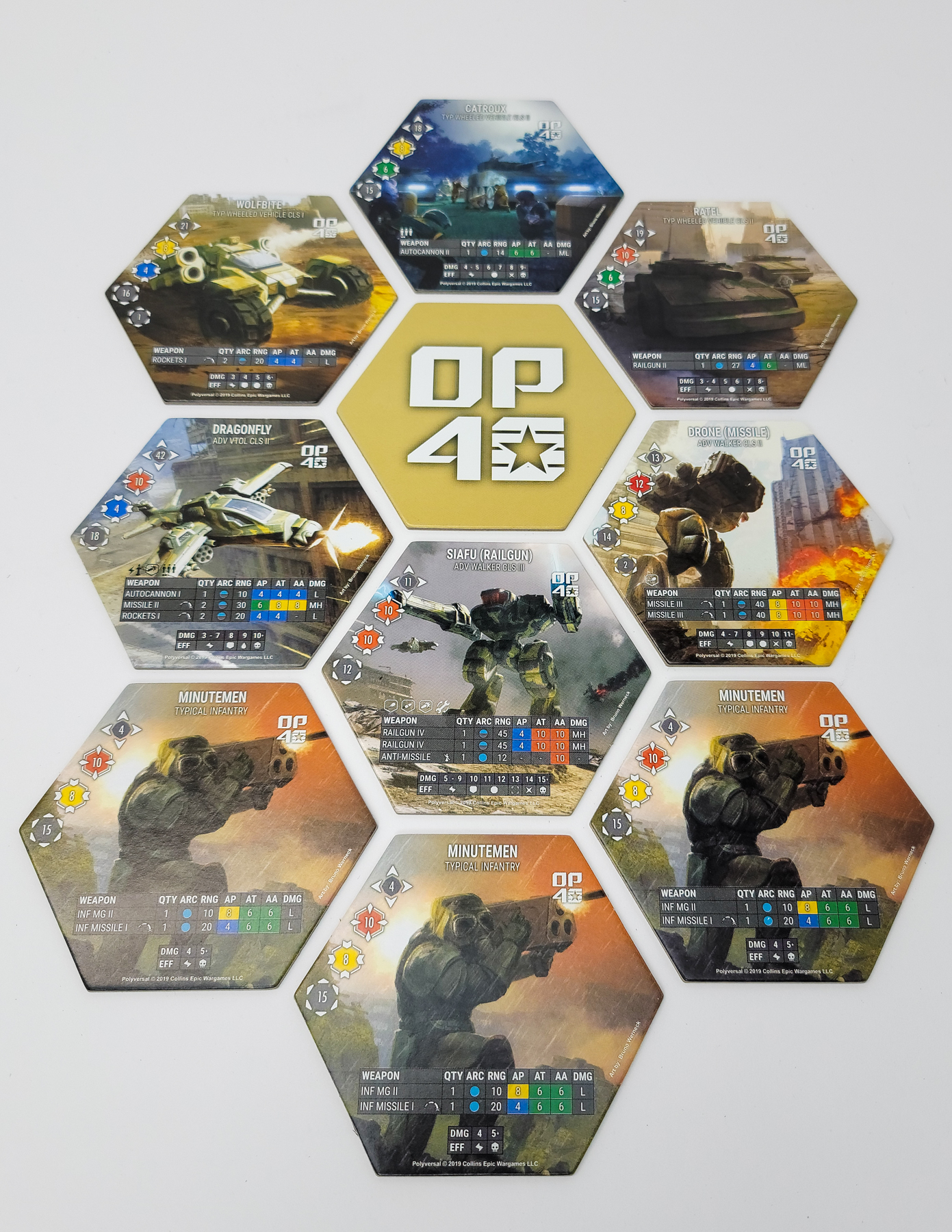 OPFOR Minutemen Tile Pack
Physical Set on CEW Store (dropdown Selection)
Includes these Combatant Tiles (click image for larger view):
3X Minutemen (based on Progenitor Heavy Infantry miniatures by Plasmablast Games)
1X Wolfbite (based on Wolfbite Missile Trike miniature by Plasmablast Games)
1X Ratel (based on Ratel miniature by Brigade Models)
1X Catroux (based on Catroux miniature by Brigade Models)
1X Drone (based on Drone w/Missiles miniature by Microworld Games)
1X Siafu (based on Siafu w/Railgun miniature by Microworld Games)
1X Dragonfly (based on Dragonfly VTOL miniature by Microworld Games)
1X OPFOR Objective / Control Tile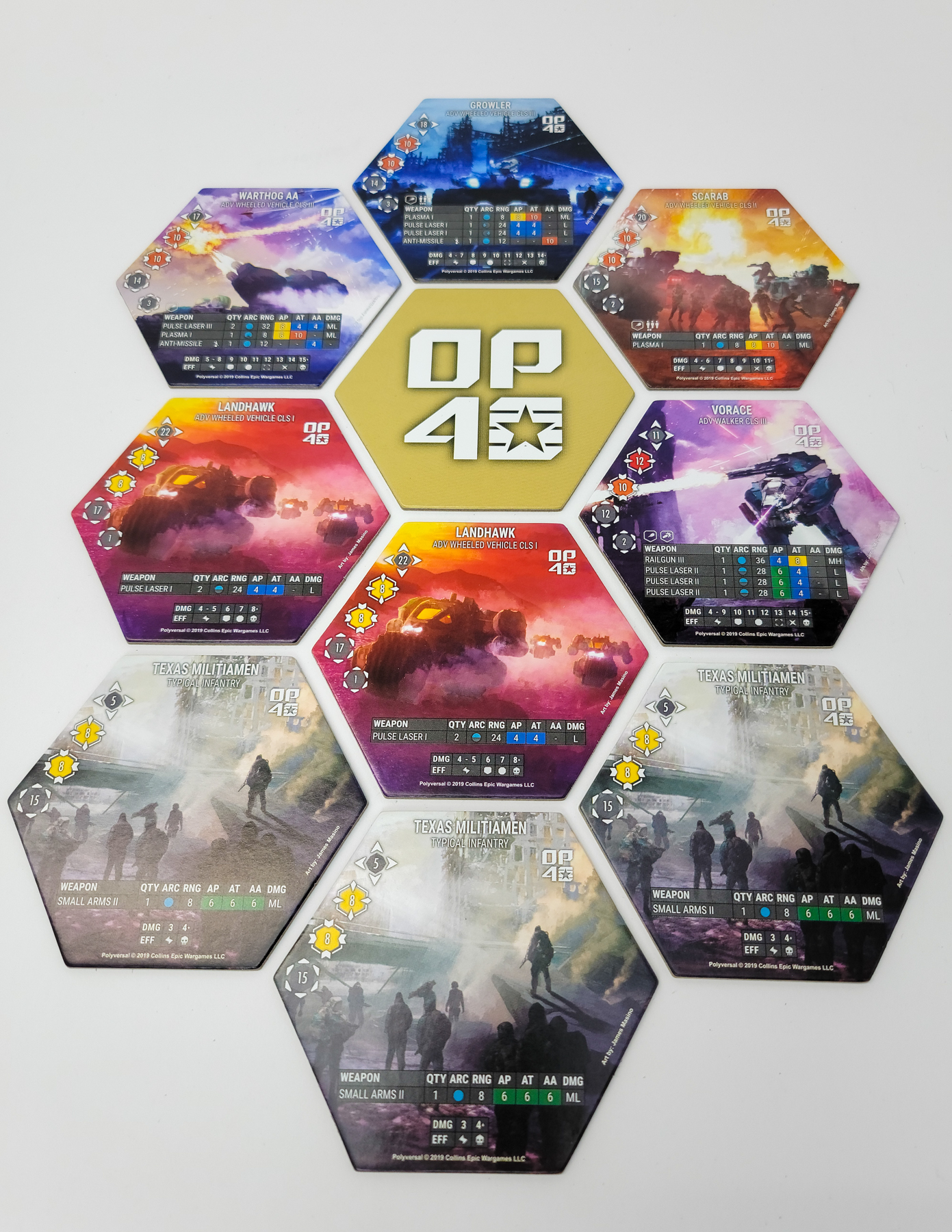 OPFOR Texas Militia Tile Pack
Physical Set on CEW Store (dropdown Selection)
Includes these Combatant Tiles (click image for larger view):
3X Texas Militiamen (based on Pax Arcadia Standard Infantry miniatures by Dark Realm Miniatures)
2X Landhawk (based on Landhawk Scouts miniature by Microworld Games)
1X Scarab (based on Scarab APC miniature by Microworld Games)
1X Growler (based on Growler IFV miniature by Microworld Games)
1X Warthog AA (based on Warthog AA/AP miniature by Microworld Games)
1X Vorace (based on Vorace Walker miniature by Dark Realm Miniatures)
1X OPFOR Objective / Control Tile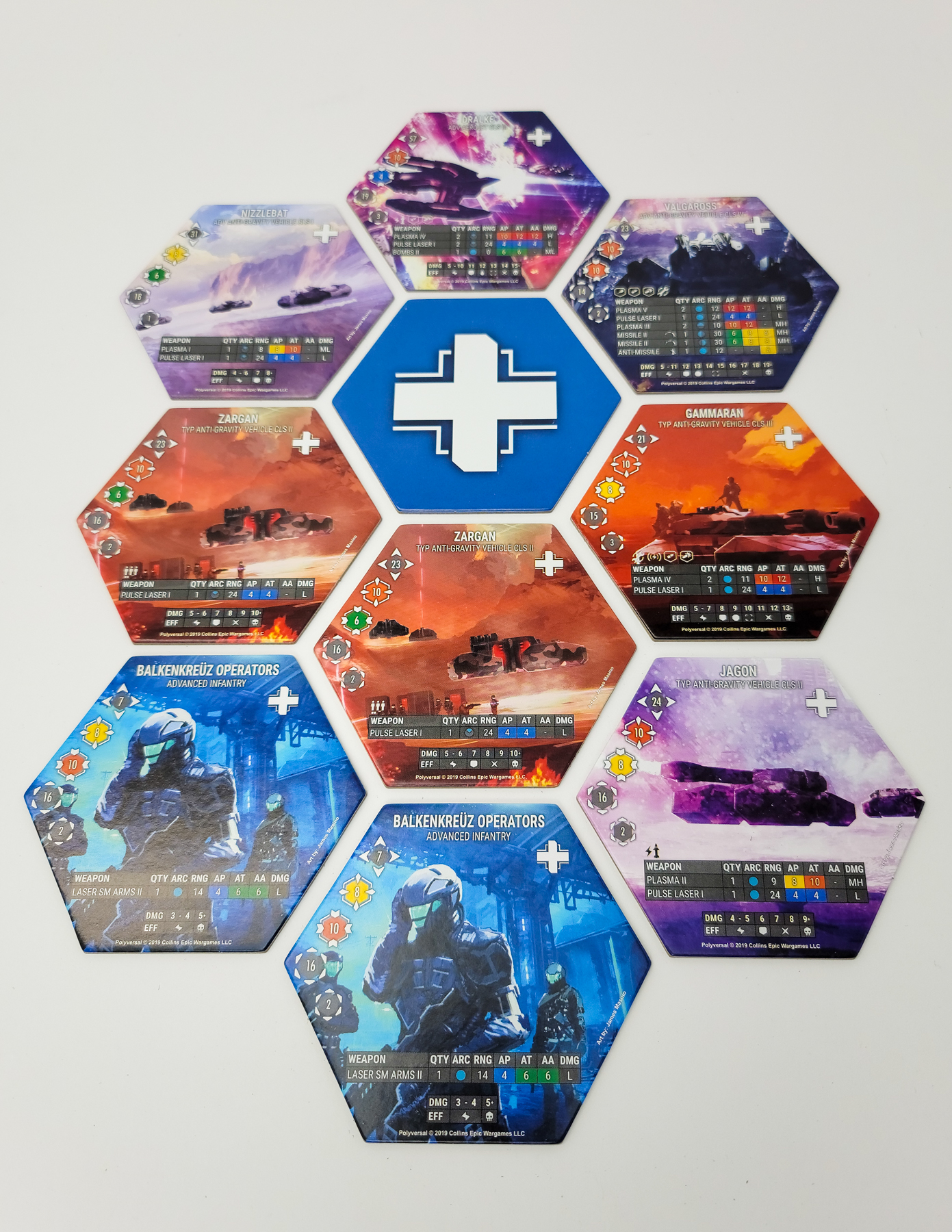 Merc Balkenkreuz GmbH Tile Pack
Physical Set on CEW Store (dropdown Selection)
Includes these Combatant Tiles (click image for larger view):
2X Balkenkreuz Operators (based on Special Forces Infantry miniatures by Dark Realm Miniatures)
1X Valgaross (based on Valgaross miniature by Plasmablast Games)
1X Nizzlebat (based on Nizzlebat miniature by Plasmablast Games)
1X Jagon (based on Jagon miniature by Plasmablast Games)
1X Gammaran (based on Gammaran Twin Plasma miniature by Plasmablast Games)
2X Zargan (based on Zargan miniature by Plasmablast Games)
1X Dralke (based on Dralke miniature by Plasmablast Games)
1X Balkenkreuz GmbH Objective / Control Tile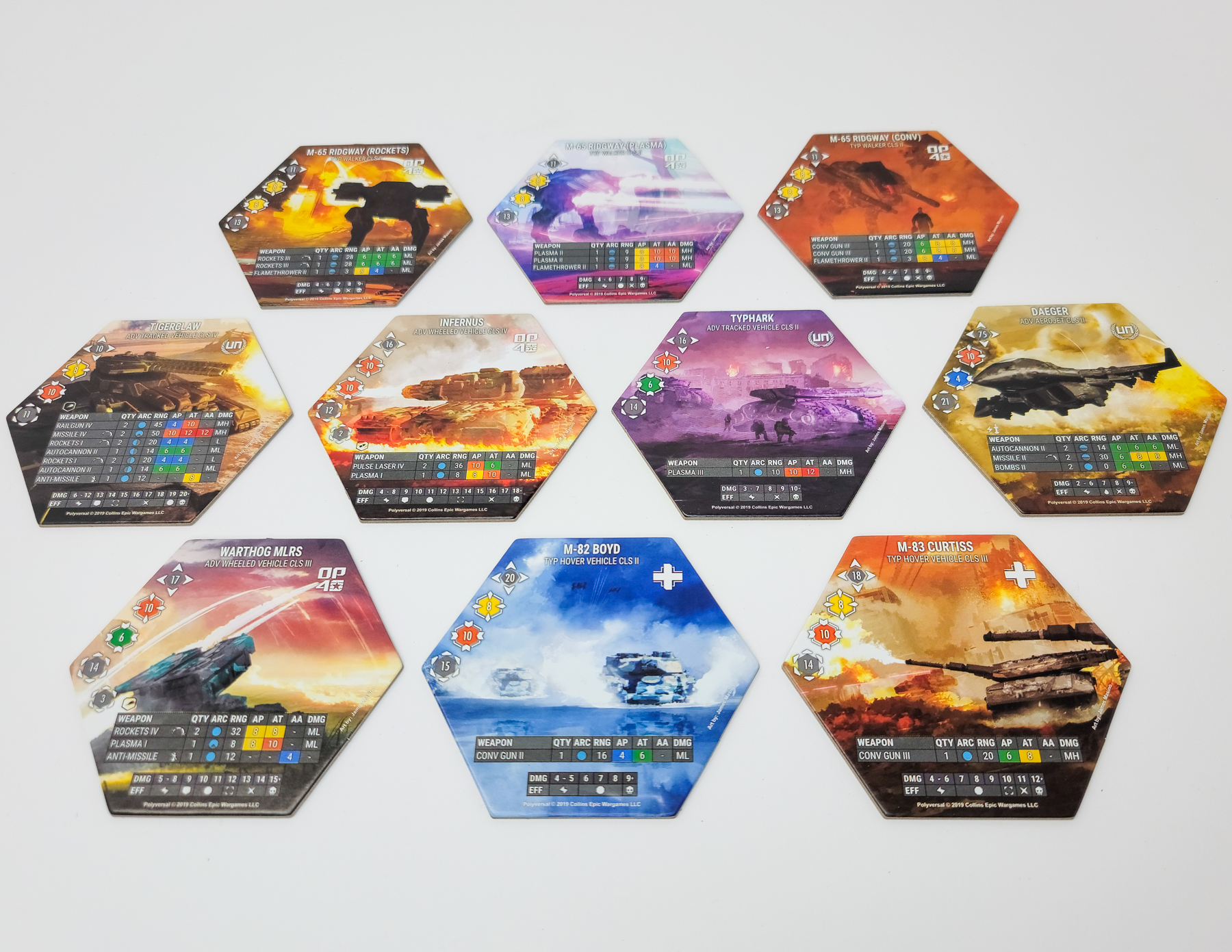 Add-On / Extras Tile Pack
Physical Set on CEW Store (dropdown Selection)
Includes these Combatant Tiles (click image for larger view):
1X M-65 Ridgway - Missles (based on M-65 Ridgway miniature by Brigade Models)
1X M-65 Ridgway - Rockets (based on M-65 Ridgway miniature by Brigade Models)
1X M-65 Ridgway - Conventional Guns (based on M-65 Ridgway miniature by Brigade Models)
1X Daeger (based on Daeger miniature by Plasmablast Games)
1X Typhark (based on Typhark miniature by Plasmablast Games)
1X Warthog MLRS (based on Warthog MLRS miniature by Microworld Games)
1X M-82 Boyd (based on M-82 Boyd miniature by Brigade Models)
1X M-83 Curtiss (based on M-83 Curtiss miniature by Brigade Models)
1X Tigerclaw (based on Tigerclaw miniature by Plasmablast Games)
1X Infernus (based on Infernus miniature by Microworld Games)